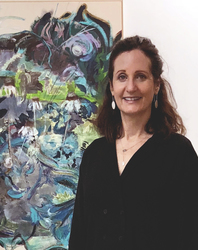 Revi Meicler is a mixed media artist who uses her paintings, sculptures, and works on paper to create visual experiences of transformation and movement. She considers her work to be "a personal journey comprised of next steps guided by trust, healing, meditation, spirituality, courage, and perseverance," and she hopes her art connects with others along the way.

Inspired by her time spent exploring and contemplating nature, Meicler's compositions are unmistakably referring to connections within the natural world. However, she refuses a direct reference to the landscape genre and hints at the presence of human interference by privileging a square format, avoiding overt horizon lines, and incorporating unnatural spatial relationships.

She creates her paintings from layers of colored abstract forms and marks, infused with her anxious energy as she contemplates the state of the world. As transformation and movement are paramount for Meicler, she incorporates dynamic geometric elements which act as a fence or frame, offering a place for the eye to actively rest and provide platforms from which her gestural marks explode.

Small concentrated areas of loosely-rendered patterns hint at the presence of animal tracks, scales, or spots, or perhaps netting in which creatures are entangled. A rich yellow brags about the height of summer; deep greens spring from the ground; shadowy forms sway in gauzy pools of opaque brown and grey; black and white seed-like forms nestle and float, while hazy pinks and browns cue the setting sun. These abstracted, psychologically-charged compositions swirl within an almost windy environment—open, infinite, and slightly unnerving.

She was born on a kibbutz in Israel and later moved to Paris, France and Houston, Texas. Her experiences of relocating to different countries, learning new languages and immersing herself in various cultures enforced in her the awareness that existence is multidimensional. Her current work is an attempt to capture this fluid and transformative energy.

Meicler studied business, finance and art at the University of Houston and continued her studies at the Glassell School of Art in Houston, Texas. She has exhibited with the Davis Gallery, Metropolitan Gallery, People's Gallery and Wally Workman Gallery in Austin, Texas. In 2018 she was a finalist in the visual arts category for the Austin Critics Tables Awards. Her work has been included in group shows in Los Angeles, Houston, and Dallas and is in numerous private and public collections in the United States and Europe. She currently lives in Austin, Texas.