This year the Austin Studio Tour is a citywide celebration of art in Austin. See my invitation on youtube
come by....#367 on the map!
Visual Arts Alliance38th Juried Open Exhibition
one of my paintings was selected for this exhibition which was juried by Alison de Lima Greene, the Isabel Brown Wilson Curator of Modern and Contemporary Art at the Museum of Fine Art Houston
Join me at the opening reception
Wednesday, May 18, 2022 from 6 - 9 pm
Sabine Street Studios, 1907 Sabine Street, Houston, TX
Visual Arts Alliance 38th Juried Open Exhibition
One of my paintings has been selected for this exhibition which was juried by Alison de Lima Greene, the Isabel Brown Wilson Curator of Modern and Contemporary Art at the Museum of Fine Arts Houston.
Opening:
Wednesday, May 18
6 - 9 pm
Sabine Street Studios
1907 Sabine Street
Houston, TX
March 19 - April 30, 2022
Group exhibit curated by Gaby Collins-Fernandez and Patricia Miranda
at MAPSpace in Port Chester, NY
Wally Workman Gallery                             July 2021                                           
I will be in a 2 person exhibit at the Wally Workman Gallery
July 10 - 31, 2021
Wally Workman Gallery,                January 2021


For this show, each of the five printmakers in the gallery's stable of artists invited a fellow printmaker they admire to show alongside them, resulting in an exhibit of 10 printmakers from across the country. Participating artists include Ellen Heck, Susan Belau, Kathryn Polk, Andrew Polk, Revi Meicler, Emily Weiskopf, Elvia Perrin, Luisa Duarte, Julia Lucey and Golbanou Moghaddas. Printmaking is a broad art making term and this show highlights a variety of techniques: etching, lithography, monotype and intaglio.
Printmakers: In Good Company is presented in conjunction with PrintAustin. PrintAustin is an artist-led nonprofit working with local venues and artists to showcase traditional and contemporary approaches in printmaking. The annual festival will take place January 15 to February 15, 2021.
 The Portfolio Box Project
Work created during the 2020 pandemic that reflects on the colors Black and White.
Now available as a series in a portfolio box at Wally Workman Gallery


I will have works on paper with the Wally Workman Gallery booth at PrintAustin's annual print fair.
The fair is organized by Print Austin and provides opportunity for local, national, and international artists, galleries, and dealers to share works on paper with seasoned and new collectors.
The PrintEXPO will take place on
February 1 & 2, 2020
It opens with the Printmaker's Ball preview party on January 31.
more info at printaustin.org
2019 INTERNATIONAL ART BIENNIAL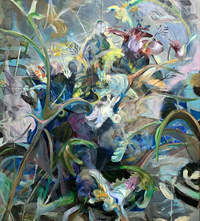 FLIGHT OF THE MONARCH
Five paintings from my current series, including '
Bloom Where You Are Planted
' (pictured)
are in
the Monarch Butterfly exhibit
, part of Houston's International Art Biennial.
The exhibit, curated by Yvonamor Palix, investigates the similarieties between the travel of the Monarch and the way that art has of dispersing information throughout the world
A '
Must See' by the Arts & Culture critic of the Houston Chronicle
October 4, 2019 – January 11, 2020
1824 Spring St, Houston, 77007
15th Annual People's Gallery Exhibit
I'm excited to have been selected to participate in the 15th annual People's Gallery exhibition at Austin City Hall. The presentation will feature a wide array of painting, sculpture, drawing and other media by 113 artists from across the Austin area. Remarks by Austin Mayor Steve Adler and others will begin at 6:30 p.m.

The People's Gallery 2019 Opening Reception
Friday, February 22, 6-9 p.m.
Austin City Hall, 301 W. 2nd Street
Austin Critics Table Awards 2018
I am honored to have been nominated in the visual arts categaory for the 2018 Austin Critics Table Awards.
Austin Arts
Wally Workman Gallery Jan 20 - Feb. 10, 2018

I will be exhibiting some of my work at the Wally Workman Gallery in conjuction with the city-wide PRINTAUSTIN event which takes place from Jan 20 - Feb 10, 2018.
Monotypes and Sculptures as well as paintings that are influenced by my printing process.

Please stop by for the opening on Jan 20, 2018 from 6 to 8 pm.
Wally Workman Gallery
1202 West 6th Street
Austin, Texas 78703
512.472.7428


http://wallyworkmangallery.com
SEPTEMBER 24 - NOVEMBER 5
Painters Painting Painters
Ten premiere Austin-based figure painters
trade portraits.
Davis Gallery is pleased to present a group exhibition of new works by premiere Austin-based figure painters. The ten artists featured are Jennifer Balkan, Chris Chappell, Denise Fulton, Felice House, Karen Maness, Revi Meicler, Karen Offutt, Mike Peterson, Johnnie Sielbeck, and Robert Summerlin. Each artist will contribute two portraits of other artists in the show, as well as a self-portrait.
opening reception: saturday, september 24th | 7-9pm
I am excited to be invited to exhibit my work in the holiday group show at Davis Gallery, December 3 to January 10, 2015.
837 W. 12th St., Austin, TX - 512-477-4929
People's Gallery Austin City Hall
My mixed media work, 'Tankini', has been selected to be part of the 2014 10th anniversary People's Gallery exhibit.
Please come to the opening reception which will take place on Friday, February 28, 2014 from 6 - 9 pm
and be sure to "Like" and share on Facebook at www.facebook.com/PeoplesGalleryATX
Tribeza Magazine Artist Spotlight April 2012
Art from the Ashes Texas Benefit Exhibition 2012
I am participating in the Art from the Ashes (AFTA) Texas Benefit Exhibit, opening Saturday, April 28th at the Starr building, 121 W. 6th, Austin, TX.
Art from the Ashes is a non-profit organization of independent artists that contributes to communities impacted by natural disasters. Proceeds will benefit Bastrop County, a community that was devastated in 2011 by the worst wildfire in Texas history. The exhibition showcases works from over 60 artists using materials salvaged from the fire.

Revi Meicler on the East Austin Studio Tour!
I recently participated in the East Austin Studio Tour, opening my studio for visitors. E.A.S.T. runs annually every November and is an incredible once-a-year opportunity to see artwork by Austin artists and support the Austin arts community.