2019 INTERNATIONAL ART BIENNIAL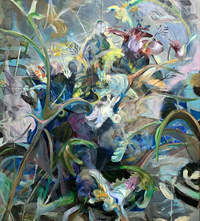 FLIGHT OF THE MONARCH
Five paintings from my current series, including '
Bloom Where You Are Planted
' (pictured)
are in
the Monarch Butterfly exhibit
, part of Houston's International Art Biennial.
The exhibit, curated by Yvonamor Palix, investigates the similarieties between the travel of the Monarch and the way that art has of dispersing information throughout the world
A '
Must See' by the Arts & Culture critic of the Houston Chronicle
October 4, 2019 – January 11, 2020
1824 Spring St, Houston, 77007
PrintAustin, held annually January 15 - February 15, is a city-wide event celebrating the art of original printmaking. Click on the Print Austin website for a calendar of events.
I will have some work with the Wally Workman Gallery at the Print Austin Expo
hosted by Blue Genie, 6100 Airport Blvd, 78752
Sat, Feb 2, 2019 from 12 - 5pm

15th Annual People's Gallery Exhibit
I'm excited to have been selected to participate in the 15th annual People's Gallery exhibition at Austin City Hall. The presentation will feature a wide array of painting, sculpture, drawing and other media by 113 artists from across the Austin area. Remarks by Austin Mayor Steve Adler and others will begin at 6:30 p.m.

The People's Gallery 2019 Opening Reception
Friday, February 22, 6-9 p.m.
Austin City Hall, 301 W. 2nd Street
Austin Critics Table Awards 2018
I am honored to have been nominated in the visual arts categaory for the 2018 Austin Critics Table Awards.
Austin Arts
My work "Bloom Where You Are Planted", mixed media, 24 x 72 inches, will be included in the 2018 People's Gallery at Austin City Hall.
The People's Gallery is designed to showcase the work of regional artists and to encourage public dialog, understanding, and enjoyment of visual art. Each year, the Cultural Arts Division issues a call for artworks to Austin-area artists, galleries, museums, and arts organizations, and presents a year-long exhibition of works by over 100 local artists.
The opening reception is Friday, February 23rd, 2018, from 6:00 to 9:00 p.m.
Wally Workman Gallery Jan 20 - Feb. 10, 2018

I will be exhibiting some of my work at the Wally Workman Gallery in conjuction with the city-wide PRINTAUSTIN event which takes place from Jan 20 - Feb 10, 2018.
Monotypes and Sculptures as well as paintings that are influenced by my printing process.

Please stop by for the opening on Jan 20, 2018 from 6 to 8 pm.
Wally Workman Gallery
1202 West 6th Street
Austin, Texas 78703
512.472.7428


http://wallyworkmangallery.com

PrintAustin's mission to the Austin art community and galleries is to share our enthusiasm for printmaking by helping galleries curate, exhibit, and promote works on paper, and to engage a wider audience through in-house artist talks, signings, panels, printmaking demonstrations, and print focused art happenings.
Please stop by my studio for the opening on
916 Springdale Rd, 78702 Bldg. 1, studio 224
I will be giving an artist talk
SaveSaveSaveSaveSaveSaveSaveSaveSaveSave
SEPTEMBER 24 - NOVEMBER 5
Painters Painting Painters
Ten premiere Austin-based figure painters
trade portraits.
Davis Gallery is pleased to present a group exhibition of new works by premiere Austin-based figure painters. The ten artists featured are Jennifer Balkan, Chris Chappell, Denise Fulton, Felice House, Karen Maness, Revi Meicler, Karen Offutt, Mike Peterson, Johnnie Sielbeck, and Robert Summerlin. Each artist will contribute two portraits of other artists in the show, as well as a self-portrait.
opening reception: saturday, september 24th | 7-9pm
I am excited to be invited to exhibit my work in the holiday group show at Davis Gallery, December 3 to January 10, 2015.
837 W. 12th St., Austin, TX - 512-477-4929
People's Gallery Austin City Hall
My mixed media work, 'Tankini', has been selected to be part of the 2014 10th anniversary People's Gallery exhibit.
Please come to the opening reception which will take place on Friday, February 28, 2014 from 6 - 9 pm
and be sure to "Like" and share on Facebook at www.facebook.com/PeoplesGalleryATX
I am honored to be one of the artists invited to participate at this AVAA exhibit:
Austin Art Space is pleased to welcome ten extraordinary guest artists to the gallery — each of whom explore the artistic process with innovative technique in their craft and deep perspective in their subject matter.
People's Gallery, 301 W. Second St, Austin, TX
February 22, 2013 - January 9, 2014

Two of my mixed media works are on display in the 2013 People's Gallery exhibition.
The City of Austin is proud to present the People's Gallery at City Hall. This free, annual exhibition is designed to showcase regional artists and to encourage public dialog, understanding, and enjoyment of visual art.
An opening reception kicks-off the new exhibit each year in February and the exhibit remains on display for one year. You can vote for The People's Choice, an artwork that will be purchased from the artist (if available) and added to the City Hall permanent collection. Voting is open during the entire exhibit year; instructions are in the exhibition guides available on the 1st & 2nd floors; ballots are in the 2nd floor lobby. Please visit the exhibition before submitting your final vote.
Tribeza Magazine Artist Spotlight April 2012
Art from the Ashes Texas Benefit Exhibition 2012
I am participating in the Art from the Ashes (AFTA) Texas Benefit Exhibit, opening Saturday, April 28th at the Starr building, 121 W. 6th, Austin, TX.
Art from the Ashes is a non-profit organization of independent artists that contributes to communities impacted by natural disasters. Proceeds will benefit Bastrop County, a community that was devastated in 2011 by the worst wildfire in Texas history. The exhibition showcases works from over 60 artists using materials salvaged from the fire.

Revi speaks about EAST on KLRU's 'Collective'
KLRU's Collective interviewed me at my studio during the East Austin Studio Tour at Big Medium in November 2011.

Revi Meicler on the East Austin Studio Tour!
I recently participated in the East Austin Studio Tour, opening my studio for visitors. E.A.S.T. runs annually every November and is an incredible once-a-year opportunity to see artwork by Austin artists and support the Austin arts community.